Problem
On Windows XP Professional, the security tab in folder properties is hidden. So you can't configure permission on a certain folder. Don't worry, this is not effect from virus or malicious things. It is by design of Microsoft to hide the security tab as a default setting. This is the example of a folder properties on Windows that is in a work group. You'll see that there is no Security tab in the figure below.
Note: On Windows XP which is in an domain will not affected this problem.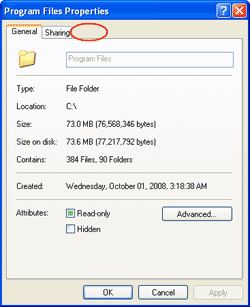 Step-by-step to solve missing security tab on Windows XP
Click on View tab. Then, browse to the bottom of the Advanced Settings and unchecked the box "Use simple file sharing (Recommended)".

Next, try to open the folder properties again. You'll see the security tab. Now you can customize permission as you want.