If you try to install the latest version of APC PowerChute Business Edition agent on the computer that has VMWare product installed (VMWare Server, VMWare Workstation), you will receive the following error message similar to this one:
VMWare Server has been detected on this system.
This version of PowerChute Business Edition does not support VMWare Server.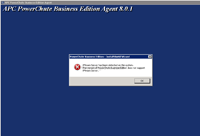 The workaround is to use to older version of APC PowerChute (8.0.0 or below). You can download APC PowerChute Business Edition version 8.0.0 at here. Or you can try to download from ftp at apcc.com .