If you are using VMWare Workstation (or VMWare player) on Windows 8.1 and have just update Windows, specifically KB2995388, you may receive this error message when attempt to start a virtual machine.
Not enough physical memory is available to power on this virtual machine with its configured settings.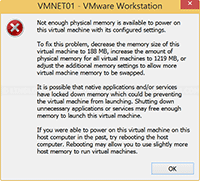 VMWare's team suggests a workaround to this issue by uninstall Windows 8.1 Update KB2995388 which is labeled as an optional update, reference: Workstation 10 issue with recent Microsoft Windows 8.1 Update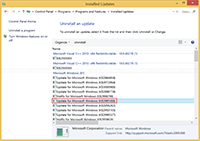 However, some user doesn't want to fix the issue by uninstall KB2995388 (including me). There are some workarounds to this issue. First workaround, suggested by users, is to run VMWare as Administrator.
Right-click on VMWare shortcut icon and select Properties.
Another workaround that I have tested it myself and confirm that it's work. Follow these steps below:
Open the config.ini file located at C:\Program Files (x86)\VMware\VMware Workstation (the path of VMWare's application). If the file doesn't exist, create a new one.
Copy the file to '%AppData%\VMWare'.
For example, C:\Users\Linglom\AppData\Roaming\VMware (replace Linglom with your username).
Restart your computer and try to start a virtual machine.