I have extracted a backup file of WordPress website (from Linux server) on Windows desktop. But when I try to delete the folder, I get this error message:
Source Path Too Long 
The source file name(s) are larger than is supported by the system. Try 
moving to a location which has a shorter path name, or try renaming to 
shorter name(s) before attempting this operation.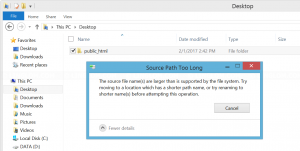 Then, I try to find which folder/file that caused this problem, and found out that they are in a cache folder and Windows explorer cannot delete or rename these folders.


Solution
This error occurs because Windows explorer can't handle any file or folder that has full path longer than 255 characters. In this article, I will show 2 methods to delete files or folders that have source path too long issue.
Watch on YouTube
Step-by-step
Use subst command to shorten a full path
You can use subst command to map a path with a drive letter in order to shorten full path. In this example, I will map this path – C:\Users\linglom\Desktop\public_html\wp-content\cache to z:\
Copy a path that you want from the address bar on Windows Explorer.

Type this command and press Enter.

subst z: C:\Users\linglom\Desktop\public_html\wp-content\cache

Note: You have to replace path to a folder that you're having the problem. You can also replace z: with other drive letter that available on your system.


Open Windows Explorer and browse to Z:\. You can now delete or rename these files.

Delete long path files with 7-Zip
You can use 7-Zip File Manager to handles long path folders and files.
Download and install 7-Zip from http://www.7-zip.org/download.html.

Browse to a path that you can see the folder that you want to delete. Select the folder and press Shift + Delete to delete a folder instantly (without moving it to recycle bin)
Note: Make sure that you select a folder that you really want to delete before proceed.